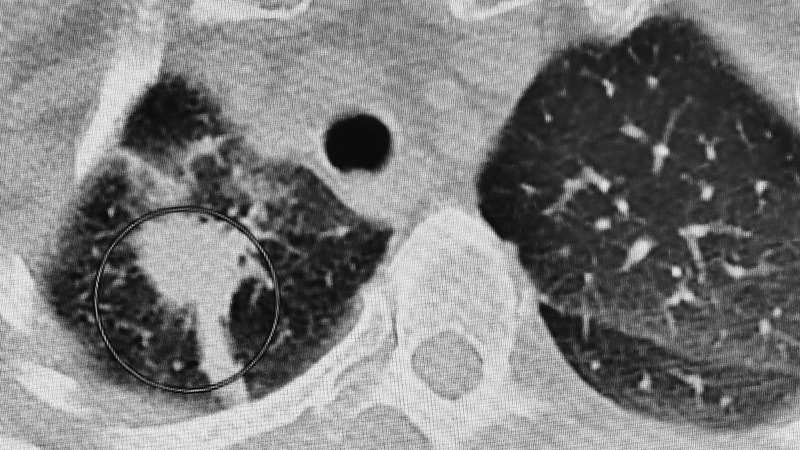 A bus converted into a mobile CT screening unit has been reaching high-risk individuals in underserved rural counties in Appalachia areas who may have otherwise not had a chance to be screened for lung cancer.
Results from a pilot study, published online July 13 in the Annals of Thoracic Surgery, show that the scheme is both practical and financially sustainable.
During a 10-month test run, the mobile unit screened 548 individuals at 104 sites. Five lung cancers (four of which were early stage) and a type B thymoma were discovered, and all of these individuals went on to have treatment.
Significant pulmonary findings were also discovered in 52 individuals, who were advised to undergo further testing, as well as significant nonpulmonary findings in 152 individuals (of whom 13 required further testing, but none went on to have treatment). These findings included severe coronary disease and thyroid abnormalities.
The bus reached the estimated financial break-even point of 428 scans, but future economic viability of such a program will likely rely on additional revenue from the treatment of patients with incidental findings from low-dose CT screens, acknowledged the authors, led by James R. Headrick, Jr, MD, MBA, from the University of Tennessee College of Medicine in Chattanooga.
The real value of the Breathe Easy program, however, comes from bringing both patient education and lung cancer screening services to a high-risk population who might otherwise be overlooked, Headrick said in an interview with Medscape Medical News.
"We were all excited when lung screening was approved, and we got the recommendation from the United States Preventive Services Task Force [USPSTF], and the Centers for Medicare & Medicaid Services signed off on it, and we sat in our offices and clinics and hospitals — and nobody showed up. We were thinking, 'Wow, we have this simple test, the easiest screening tool in the world, and nobody's coming,' " he said.
"There was certainly an educational issue that needed to be solved," he continued, "but we were also dealing with a population that had been told that if they smoked and didn't live life well, there was a 100% chance they were going to get lung cancer and die," he said.
The individuals screened in the program were very heavy smokers.
The mean pack-years of smoking was 41 — 11 pack-years higher than the minimum recommended under current lung cancer screening guidelines, and 21 pack-years higher than that recently recommended under proposed low-dose CT screening guidelines by the USPSTF.
Albert Rizzo, MD, chief medical officer for the American Lung Association, who was not involved in the study, told Medscape Medical News any initiative that can expand lung cancer screening is welcome, particularly when a program may be self-sustaining.
"The interesting part of this article included the downstream revenue to help make something like this viable," Rizzo said. "Just doing the scans is probably not going to cover the cost of the mobile unit itself, but if you take into account that other things are being found in addition to lung cancer, such as coronary abnormalities, then it becomes more cost-effective, especially if those patients are then treated at the site where the mobile unit is coming from," he said.
Starting at Square One
The first mobile CT scanner was launched in Nagano Prefecture, a rural area in Japan, in 1996. Since then, mobile screening units, primarily mounted on tractor trailers, have brought screening to centralized areas, such as shopping mall parking lots. The Levine Cancer Institute in Charlotte, North Carolina, also has a mobile CT-screening unit mounted in a modified box truck.
For Headrick and colleagues the goal was not to reinvent the wheel, but to see if a mobile lung cancer screening program could improve access and also pay for itself in a time of parsimonious support for preventive medicine.
Their first challenge was the mobile unit itself.
"CT scanners are sensitive, complex electrical machines that require climate control and a level environment to operate. Historically, they have been placed in tractor trailers and parked on level concrete slabs connected to external power supplies. We needed mobility, self-leveling, independent power, climate control, patient comfort, and drivability," they wrote.
They assembled a team of engineers from CT and vehicle makers, and input was also provided by a thoracic surgeon, pulmonologist, radiologist, CT technician, and driver with a commercial driver's license. Together, they designed and built the bus over 8 months. Funds for the total cost of the prototype vehicle ($650,000) came from two local nonprofit foundations. The estimated cost for a commercial version of the same vehicle was $850,000.
The Breathe Easy pilot began operation in early 2018, with the initial plan to drive the bus within a 2-hour radius of CHI Memorial Hospital, Chattanooga, Tennessee, to avoid overnight trips. The radius was later shortened to 1.5 hours when operators realized it was a burden for patients with significant screening findings to travel to as much as 4 hours (round trip) to Chattanooga for further testing.
Each screening visit takes about 15 minutes.
Cancer and Other Significant Findings
As noted before, the bus traveled to 104 sites over 10 months, and 548 patients with a mean age of 62 were screened. Five lung cancers were identified, including two stage 1A, one stage 1A2, one stage 1B, and one stage 3A.
Two patients with early stage disease underwent stereotactic body radiation therapy, and two underwent minimally invasive surgery (a segmentectomy and a lobectomy). The patient with stage 3A disease underwent curative chemotherapy and radiation therapy. One patient with a type B1 thymoma underwent robotic-assisted thoracoscopic resection with en bloc pericardial resection and reconstruction.
A total of 51 patients had a significant pulmonary finding of Lung CT Screening Reporting and Data System (Lung-RADS) 3 or 4 and were advised to follow up with further testing, but 17 patients in this group did not pursue further testing. Of these 17 patients, 15 had been screened in a health clinic for the homeless at a rural site.
Significant nonpulmonary findings included moderate to severe coronary artery disease in 101 patients, abdominal findings in 15, thyroid abnormalities in 14, other thoracic findings in 10, and ascending aortic dilatation in 9. Of the 152 patients with nonpulmonary findings, only 13 required further testing and none required treatment.
Revisions, Improvements, and Priorities
The Breathe Easy bus has been in operation for more than 2 years, performing an average of approximately 100 screenings per month, with a goal of 200. The bus continued to operate throughout the COVID-19 pandemic because many patients viewed it as a safer alternative to a hospital visit, Headrick said.
Design changes planned to improve performance of the bus include a stronger chassis and structural components, as well as swapping out the 16-slice CT unit for a specially designed 64-slice mobile unit that can be operated with an iPad and provide gated coronary calcium scores.
When challenged about whether the cost of lung cancer screening is the best use of limited resources, Headrick said, "if it's not, then when we need to go back to the drawing board and jump-start lung cancer screening."
"When I spent a year in 2014-2015 trying to talk to radio stations, news stations, media, nobody really cared about lung cancer screening," he said. "But as soon as I had this shiny object, which is the bus, which we labeled as the easiest and most valuable doctor visit, people had an interest."
The pilot study was supported by local nonprofit foundations through the CHI Memorial Foundation.
Ann Thorac Surg. Published online July 13, 2020. Abstract
For more from Medscape Oncology, join us on Twitter and Facebook.

AD Res